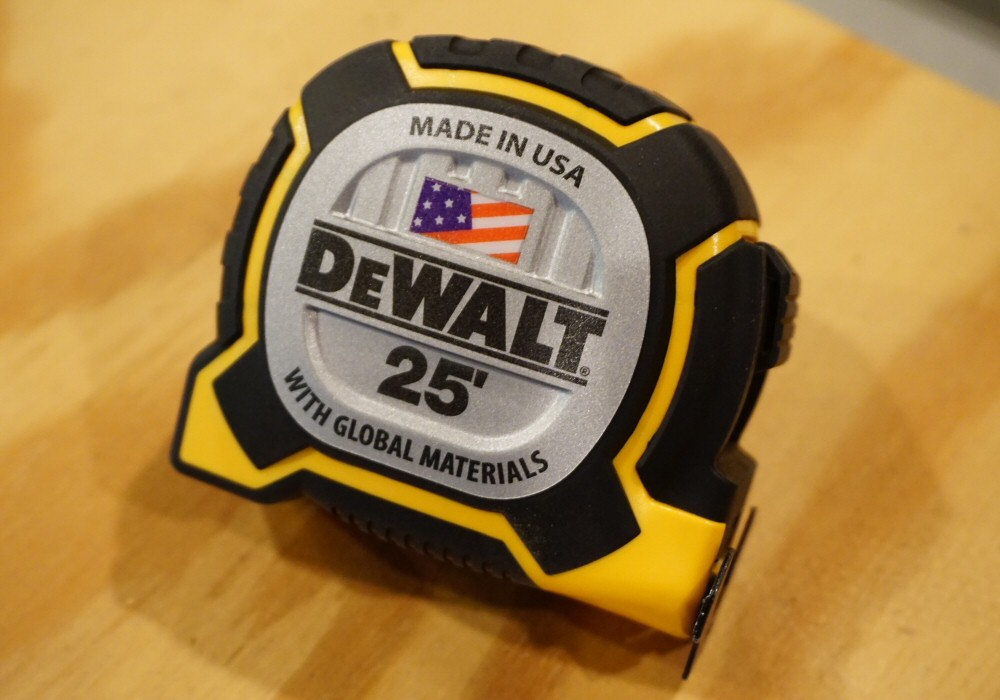 It's been a while since we've upgraded our tape measure in our workshop, so we were excited when DeWALT shipped us an early sample of their their new 25′ XP Tape Measure slated for release here in the USA this July, 2017. DeWALT has gone back to the drawing board on this tape to put in features designed to make the lives of builders and contractors a little easier.
Ergonomics, Grip, and Case Construction
The first thing we noticed about the XP is its really great grip. The XP's case is coated with a black, no-slip rubber material on all four edges that just feels good to hold. It's also slightly smaller and heavier than some other heavy duty 25′ tapes we've used. (We're OK with the extra heft because we associate that with a high quality, wide steel blade, which the XP has.) The case is constructed with five screws around the exterior perimeter that join the two halves of the blade housing. DeWALT says that this and other parts of the case design make it able to survive drops up to 60′ on packed dirt. (We didn't test that claim.)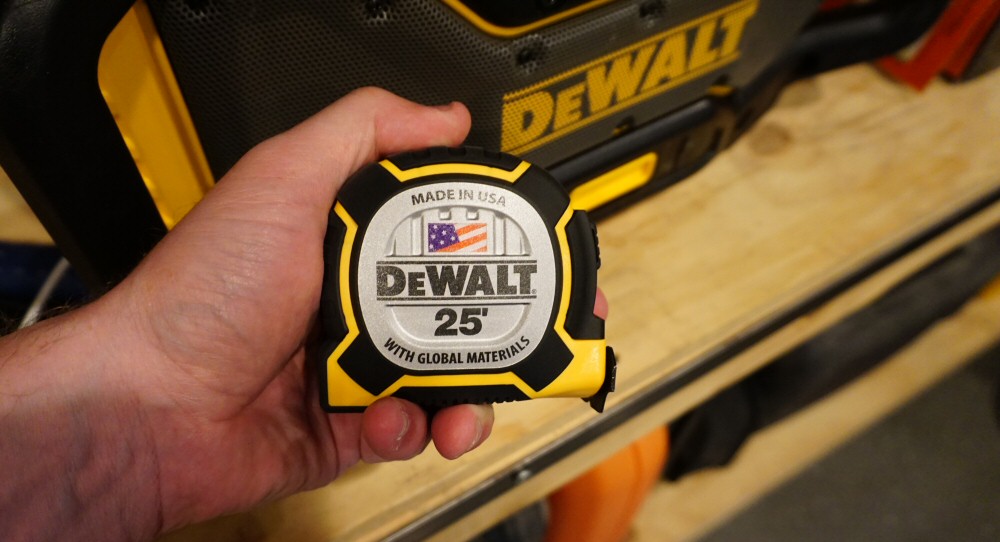 Spring Action for Tape Retraction
In the press release for the XP, DeWALT touts a patented dual-spring system they call Dual Core Technology. The result is pretty fast retraction speeds. We ran a few tests and retracting from a full 25′ extension can be as quick as 1.7 seconds if you let the hook crash against the housing (an activity that, if repeated, we're sure will shorten the tape measure's life, so don't do it!) We're hopeful that the dual spring technology means we'll get good retraction speeds for years to come.
Four-Way Grip Hook
The XP improves on the traditional tape measure hook in two important ways. First, the hook stands off of the tape in all four directions allowing the hook to grip material in any orientation. We ran a few tests gripping the edge of plywood sheets and can confirm the hook grips well on all four sides. Second, the hook is attached to the blade with three rivets as opposed to the usual two, which should increase hook life assuming you don't let it crash against the housing every time you use it like we did in our test above. Around our shop we usually lose tape measures because the hook breaks or the blade gets bent. Any improvements to reduce these issues are welcomed innovations.

Blade Marking and Stand Out Distance
The blade itself is made of carbon steel and is 1-1/4″ wide. The first 9-1/4″ of the blade are coated with an additional clear thermoplastic material designed to protect the most used part of the tape and to strengthen the hook connection. The blade features very large, legible feet and inch numbering and is marked down to 1/16″ the whole length of the tape. It also includes standard visual cues for feet (black arrows), 16″ centers (red boxes with arrows), and 19.2″ centers (diamonds).

With those positives in mind, blade marking is one area where we think the DeWALT could add some additional features. Some competitors are now marking their tapes both front and back, while this tape only has front markings. Back markings would create additional expense in the build, but where DeWALT has the 4-way hook, marking the back of the tape would make the tape more usable in upside down orientations. Secondly, and this is more preference than anything, some tapes have the first 12″ marked down to 1/32″ dashes and include fractional numerical markings for the 1/4″, 1/2″, and 3/4″ lines. Experienced builders and tradesmen may find the 1/32″ dashes and the fractional markings on the first 12″ of the tape to be unnecessary (we suspect that's why DeWALT omitted them), but more junior users may appreciate them, especially for precise measurements.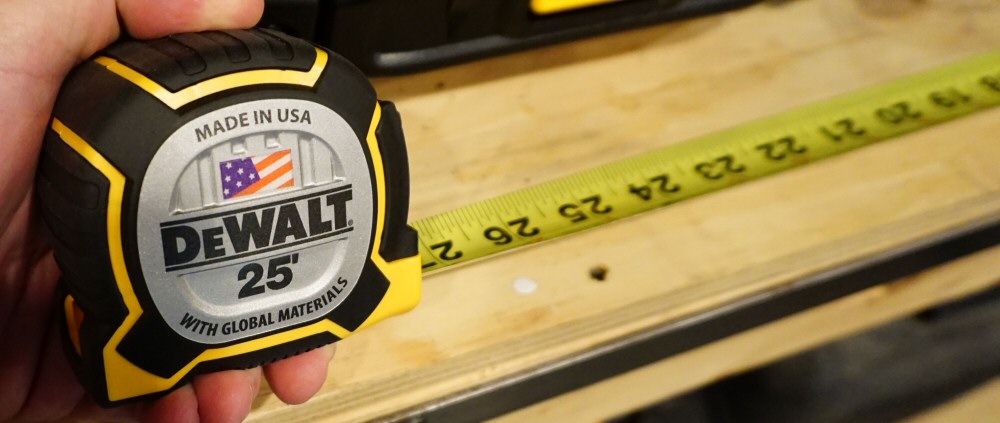 One of the nice things about the XP is how far the blade will stand out from the case before it snaps under its own weight. DeWALT claims 13′ stand-out for the XP. We were only able to get the XP to stand out 12'8″ if we provided no additional support to the tape. (That's still really good, BTW!). Since you can usually provide an additional 1.5′ to 2.0′ of support to a tape with your other arm, the longest we were able to stretch the tape without support was 14′ using both arms, which is a very respectable stand out length that far exceeds our other tapes and makes it much easier to measure over longer distances.
Additional Features
The tape includes a few additional features worth mentioning:
Lanyard hook for increased security.
Screwless belt clip (works great – we tried it!)
Easy-to-use lock button that clicks in place.
Made in the USA (with Global Materials)
Overall Thoughts & Where to Buy
We already really like this tape even though we've only used it on test activities for this review. We anticipate this will be a great add to our shop for years to come and are confident you'd be making a good investment buying this tape!
The XP goes on sale in the USA this July. We're expecting the 25′ tape to come in somewhere around $25-30. We'll update this article with some buy links when it's available!