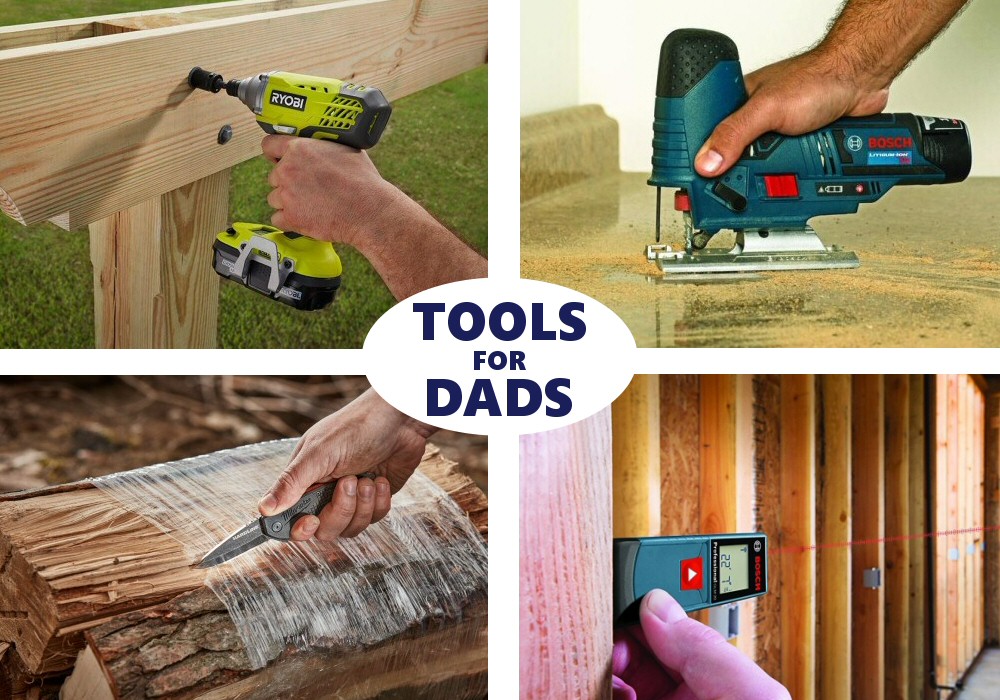 Father's Day is just around the corner (seriously, it's June 18. That's less than a month away!). This year, instead of giving Dad another plaid tie he'll throw in the back of the closet, how about surprising him with a brand new tool he'll love and actually use!
Now you may be saying to yourself, "Yeah, but Dad already has dozens of tools. He probably doesn't need another one." FALSE. Studies have shown that Dads cannot have too many tools.* And even if your particular Dad already has all the tools on this list, that doesn't mean he has the latest version of these tools. Is his tape measure numbered on both sides so that it's much easier to use? Is his jigsaw battery-powered? Is his pocket knife made of D2 steel? Probably not.
Tool manufacturers add new features to their tools every. single. year. It's a super-competitive market and that means they have to work hard and innovate to stay ahead. It also means there is almost certainly something on this list your Dad wants, needs, and will absolutely love.
Don't let a sibling steal your glory this year. Buy Dad a tool he'll love today!
Get in the Spirit w/ 10 Days of Dad Giveaway!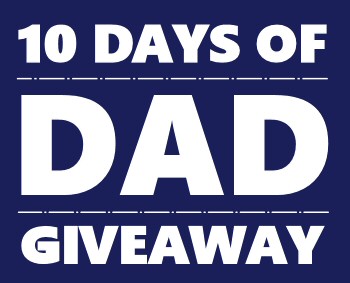 You know what's even better than buying a tool for Dad? Winning a tool for Dad. (We're sure Dad would approve!) So we've partnered with the tool manufacturers of all the tools on this list to give away one brand new tool every day for the ten days leading up to Father's Day.
That's right – this mega-giveaway features 10 free brand new tools! We'll give away one a day, each day from June 9 to June 18, 2017! All you have to do to enter to win a tool is like our giveaway posts on Facebook.
The best way to keep up with this and all giveaway posts is to Like our Facebook page today. That's it. There's no complicated sign-up or anything!
And Now… 10 Tools Your Dad Will Love!
FYI. Some of the links below are affiliate links, which means if you decide to purchase something after following one of those links, we may receive a commission on the sale. We totally appreciate any shopping you do through these links, and we know your dad will, too!
#1 – Bosch GLM 20 Laser Distance Measuring Tool
First up in our list is this very cool Bosch GLM 20 Laser Distance Measuring tool. What sets the GLM 20 apart from traditional long distance measuring tools is it's lightning fast and accurate measuring speed. The GLM 20 can measure distances up to 65 feet instantly and accurately down to 1/8 of an inch. Dad will love the Bosch GLM 20 because it's fast, accurate, and a more convenient way of measuring long distances than his traditional tape measure, which is often limited to distances of 25′ or less.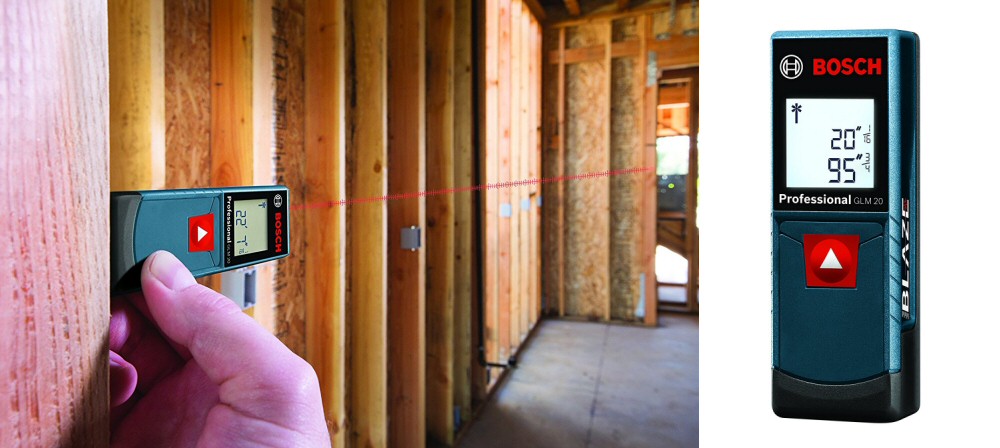 Price: $49.97. Bosch GLM available at this link: @The Home Depot
#2 RYOBI P1832 – 18V ONE+ Drill & Impact Driver Combo
With more than seventy (70!) 18-volt ONE+ tools, Ryobi's ONE+ line offers a tool for every one of Dad's projects. The perfect place to start Dad on his journey with Ryobi tools is their  ONE+ Drill and Impact Driver Combo Kit. We love this kit, and Dad will love it too because Ryobi's drill and impact driver will handle every drilling and driving application he can throw at it, and there's a seemingly endless supply of additional "bare tools" (ones that don't come with batteries) that use the same 18V batteries included with this combo kit.
Think about this – you get Dad started on the ONE+ 18V line this year with the drill/impact combo kit, and next year you've got another 70 tools to choose from for his next gift!

Price: $99.00. Ryobi ONE+ Combo Kit available at this link: @The Home Depot [free shipping].
#3 – Milwaukee HARDLINE Pocket Knife
Milwaukee designed their HARDLINE Pocket Knife to withstand serious use and abuse. The HARDLINE was designed with contractors and heavy use in mind and houses a D2 steel blade. This extremely hard steel is used for the most demanding jobs, and allows the blade to hold its edge longer, providing wear resistance under the toughest use. The bottom line for Dad: He'll be able to use this knife for a long time with no hassle or sharpening required. Plus, the black oxide finish on this knife not only looks great, it's also designed for rust resistance. The blade comes in various lengths and in both a serrated and smooth version (links below). If Dad isn't already carrying a cutting edge (no pun intended) pocket knife, this one makes a great gift.

Price: $79.97. Milwaukee HARDLINE available at this link: @The Home Depot [free shipping]
#4 – Ryobi ONE+ Hybrid Cable Lights
Ryobi's ONE+ Hybrid Cable Lights are a recent addition to Ryobi's ONE+ line up and one that Dad is sure to appreciate for mobile or workshop use. These cable lights operate on either a Ryobi ONE+ 18V battery or on electric power and provide 1500 lumens of output to a workshop, outdoor space, or for tailgating at the game. If your Dad already has the ONE+ line up with a battery or two, cable lights are a great add, and they'll even work for Dads who aren't in the ONE+ ecosystem since this light set also runs on electric power.

Price: $99.00. Ryobi Cable Lights available at this link: @The Home Depot [free shipping]
#5 – Milwaukee 25′ Magnetic Tape Measure
Milwaukee has put some serious design thought into their recently-released 25′ Magnetic Tape Measure and we love what they've come up with. Dad will love this tape because it includes a magnetic 4-way hook that is great for gripping in all types of applications, it has an innovative finger-stall mechanism that allows for accurately slowing the tape during retraction, and best of all the blade is marked on both sides which is useful in oh-so-many measuring situations. Is your Dad's tape measure magnetic and marked on both sides? If not, this tape is the perfect gift for him.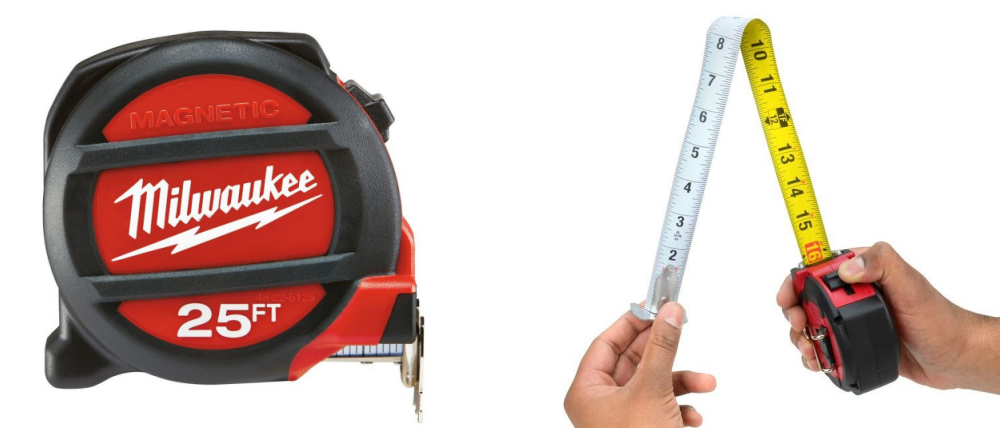 Price: $19.98, Milwaukee 25′ Tape available at this link: @The Home Depot
#6 – Husky 55 Piece Gimbal Ratchet Set
This Husky Gimbal Ratchet Kit is not your ordinary palm ratchet kit. This palm ratchet's innovative design provides multi-directional rotation for easier access in hard to reach areas. The gimbal features a 100-tooth internal ratcheting mechanism (unique to Husky's "Black" series) will allow your dad to engage fasteners (nuts, bolts, and screws) with as little as a 3.6° rotation. The Husky Gimbal Ratchet is great for high speed and low torque applications even in the most confined areas. If your dad has never used a gimbal-based palm ratchet for around-the-house tasks, he'll love it.

Price: $29.97. Husky Gimbal 55 Piece Set available at this link: @The Home Depot
#7 Milwaukee Low Vibration Framing Hammer
We have never seen a Dad disappointed with a brand new hammer. There's something so raw and powerful and manly about a quality hammer. With Milwaukee's latest line of hammers you get two important hammer attributes: excellent balance and low vibration. And for your less-historically-handymanish Dad, the groove on the head means he can drive his nails right where he wants them and never squash a finger! Milwaukee's new hammer line up offers a wide range of hammers to choose from. If you're not sure which one Dad will like best, we recommend Milwaukee's 17oz. Milled Face Framing Hammer. It's a little lighter than the 22oz and will be perfect for a wide range of applications.

Price: $39.99. Milwaukee 17oz. Framing Hammer available at this link: @The Home Depot
#8 Bosch JS120 12volt JigSaw
We've been using a Bosch jigsaw for years and absolutely love Bosch's thoughtful engineering. The latest JS120 Jigsaw from Bosch, a 12V battery powered palm grip jigsaw, is simply fantastic. This saw is designed to be lightweight and versatile – so much so that it can actually be used overhead when necessary. If your Dad is a woodworker or wants to be, this is an excellent tool to add to his tool collection.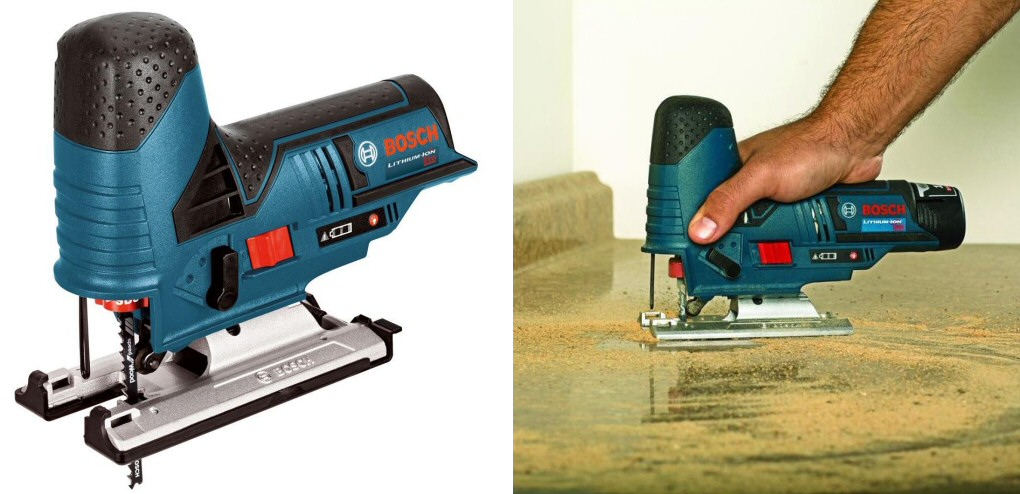 Price: $98.34. Bosch JS120 available at this link: @The Home Depot [free shipping]
#9 – Ryobi ONE+ 18V Hot Glue Gun
There are literally thousands of projects for hot glue guns ranging from light crafting to serious DIY. What Dad will love most about Ryobi's ONE+ Glue Gun is complete cord-free use. When you're sitting at a table doing crafts, having a corded glue gun isn't all that inconvenient. But for projects where you need to move around the room, a cord can really hamper your progress.
While we love the Ryobi ONE+ Glue Gun, this gift makes the most sense for Dads who are already started on the ONE+ line because it is sold as a "bare tool" which means the battery and charger are not included. If Dad isn't already on the Ryobi ONE+ line, it's time to get him started with gift idea #2 above!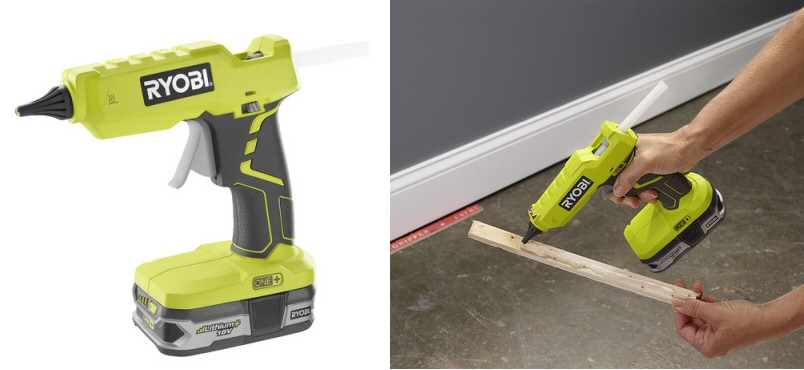 Price: $29.97. Ryobi ONE+ 18V Hot Glue Gun available at: @The Home Depot
#10 – Ryobi One+ SCORE Bluetooth Wireless Speaker System
We've saved the best for last! Surround sound has been around for decades, but with Ryobi's new ONE+ SCORE rugged wireless speaker system you can give Dad awesome sound for his garage or workshop or even to take along to the jobsite. This gift is on the pricier end of Father's Day gifts (so if Dad helped you buy a house this year, or paid your college tuition, you owe him this one!) We love everything about Ryobi's new system – the fact that it runs on electric or battery power, that you can connect up to 5 speakers for enveloping sound, the high quality sound the system produces, and the easy user interface of the system. The SCORE wireless system has been getting excellent reviews around the web and we're sure your Dad will love it. (In other words, there's no way your sibling is topping you on this one!)

Price: $199.00. The ONE+ SCORE Speaker Set is available at this link: @The Home Depot [Free Shipping]
*OK. We might have been fibbing on the whole study thing. But trust us. Every Dad loves tools!