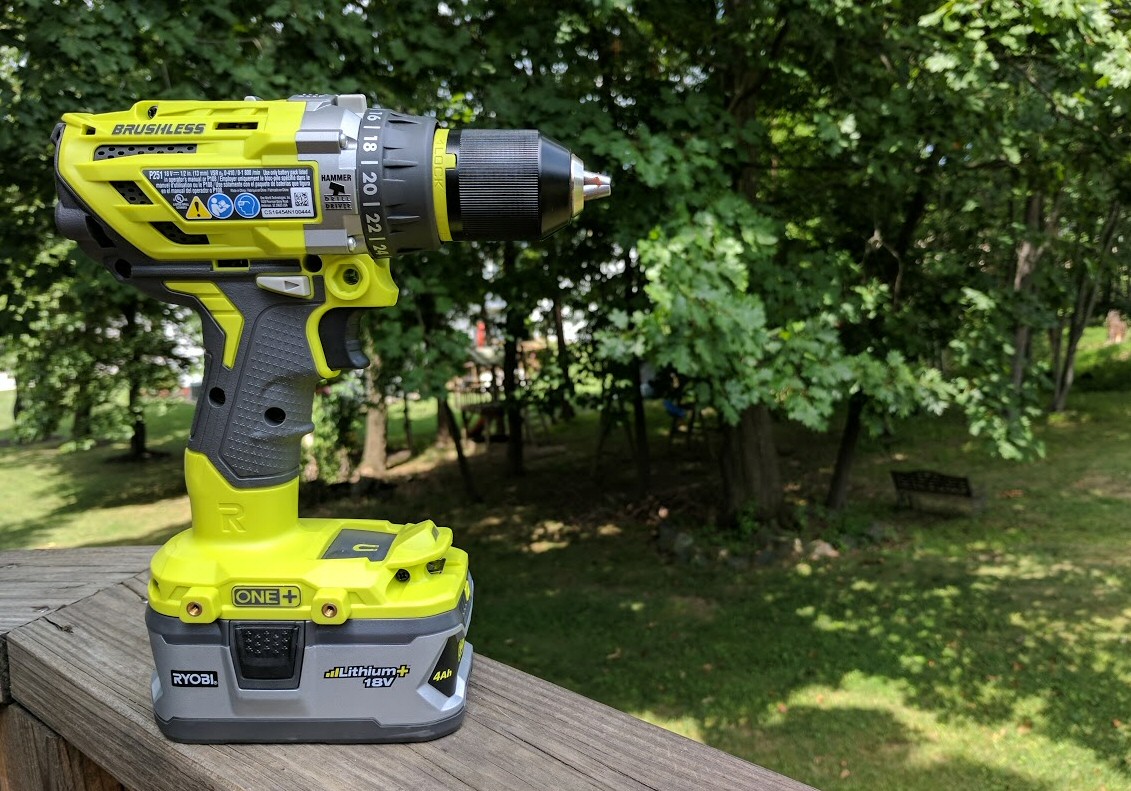 This tool review is part of our partnership with The Home Depot.
Whenever my serious DIY'ing friends ask me what they should look for in a drill/driver, I always encourage them to shop for two things: A drill/driver with a hammering capability, and a separate impact driver for driving fasteners into more difficult materials. While the cost for a hammer drill is higher than a regular drill, there are a few applications–particularly drilling masonry–where the hammer function is essential. It's going to save you a ton of work, making the extra cost of the tool (usually around $50) well worth it. If you skip the hammer functionality and buy a regular drill/driver, should you need the hammer functionality in the future you'll have to buy a whole new tool, which costs a lot more and is going to take up twice the space in your shop.
With that in mind, let's take a look at Ryobi's One+ Brushless Hammer Drill Kit (Model # P1813)
Opening the Box
The P1813 Kit comes with the brushless hammer drill, one 4AH battery, a 30-minute rapid charger [love this!], a belt clip attachment, a detachable side handle, and instruction manual.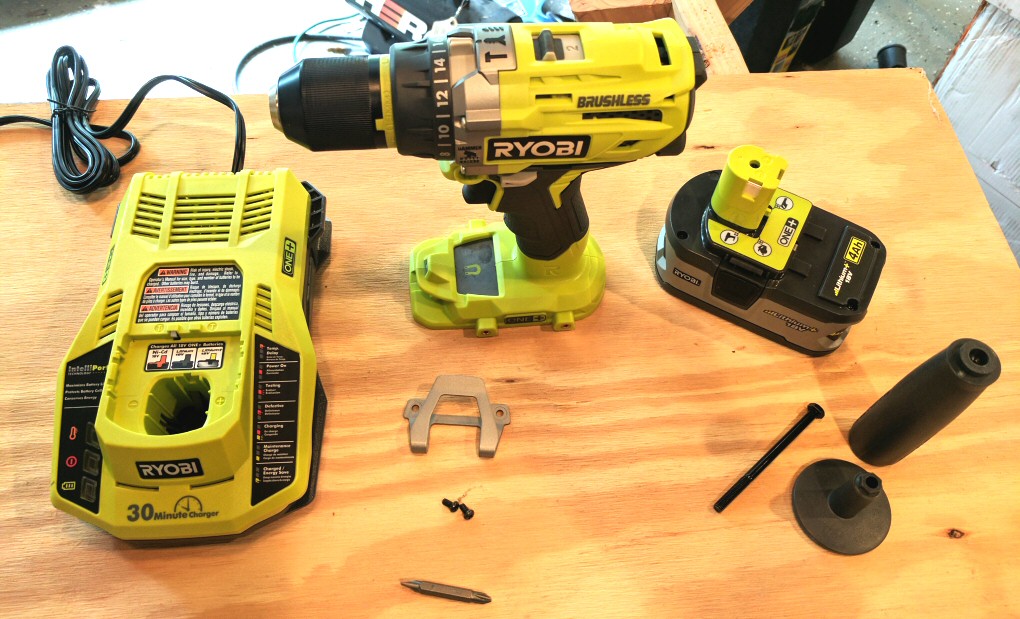 A Look at the Features of the Ryobi One+ Brushless Hammer Drill
Brushless Motor: Brushless motors have been commonplace among contractor tools for five years now and it's great to see brushless tools now targeting the DIY line up. While there's a deep technical discussion to be had around brushed vs. brushless motors, suffice it to say that brushless motors have less internal friction (and therefore less thermal energy loss) than their brushed counterparts. This means more power, longer run time, and longer tool life. The downside to brushless motors are that they are slightly more expensive to manufacture, and so costs are somewhat higher, though that gap has closed considerably in recent years.
Hammer Function: The hammer function is what sets apart hammer drills from their non-hammering counterparts. When the optional hammer mode is selected on the Ryobi, the chuck pulses in and out (very slightly – it feels more like vibration) literally "hammering" the drill bit into the material. If you've ever tried to drill concrete block, brick, or stone with a regular drill you know that it's really tough to get through and requires a lot of user-applied force. A hammer drill cuts your drill time for these applications by 75-85%. That means instead of requiring a minute to drill, the hammer drill lets you complete the job in 10-15 seconds. Imagine if you were fastening a deck to the side of the house and had to drill 60 holes in masonry block – that could be a savings of well over an hour of labor. (And if we're honest, probably a lot more, since your arms will be worn out without a hammer drill).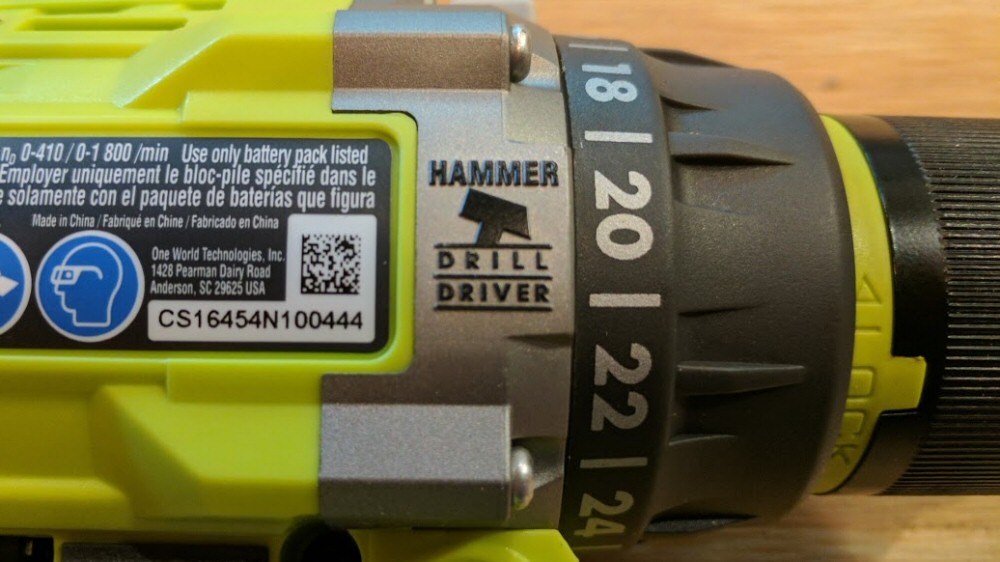 High-Capacity 4.0Ah 18V Battery: We didn't stress test this battery, but based on our experience with other Ryobi tools and 18V/4.0Ah batteries, this battery is going to provide more than enough runtime for all but the most serious DIY jobs. As battery power among contractor-targeted tools gets higher, we're seeing what were traditionally "high capacity" batteries flowing to DIY-targeted tools. Just five years ago a 20V / 3.0Ah battery was the typical high end for contractor grade tools, and now we're seeing 6.0 and even 9.0Ah batteries.
Rapid Charger: One thing we noticed right away about this charger is it's size. That's probably to give the heat sync and fan inside plenty of room to dissipate heat from the fantastic (but hot) 30-minute quick charge. We love the 30 minute charger because it means you'll never need more than two batteries, and for almost everyone, one battery will be sufficient. Should you run out of battery power, the most you'd wait for a full charge is 30 minutes, and if you just had to eek out a few more fasteners, you could charge for just 10 minutes.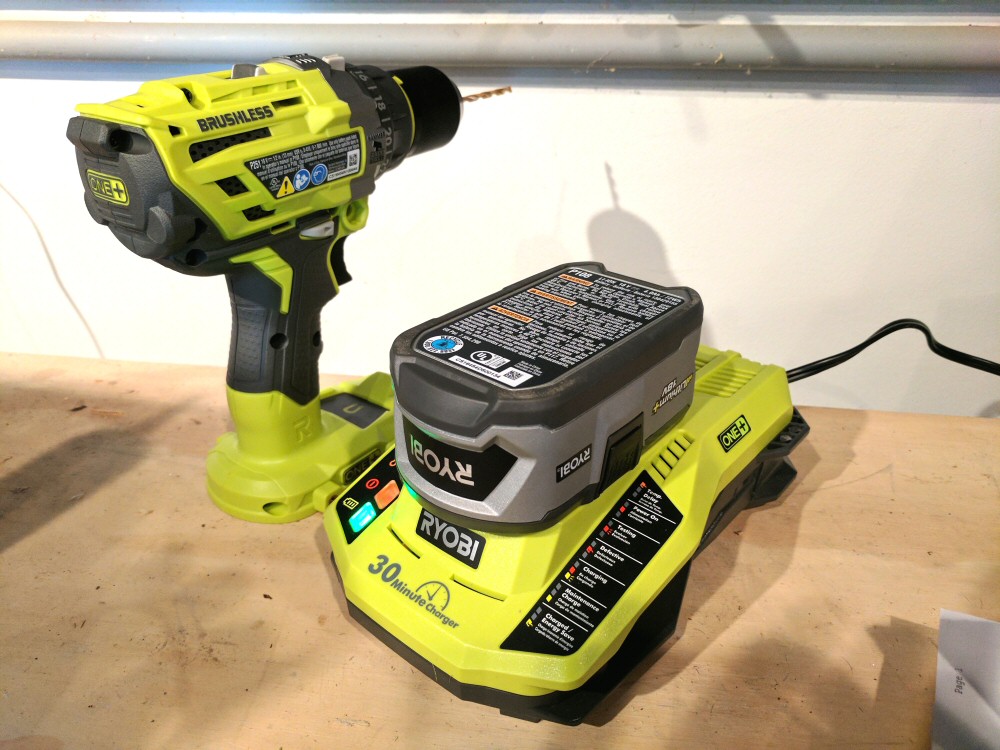 Side Handle: Since hammer drills are designed to drill through the toughest materials, almost all on the market come with a detachable side handle that allows your non-dominant hand to steady and apply additional down pressure on the drill. Ryobi's side handle is reversible to accommodate both left- and right-handed people.
A few other minor features:
Illuminating LED light for working in dark areas.
Magnetic tray for fasteners and drive bits
24 clutch set points (to prevent over-driving in softer materials)
Our Experience with the Drill
We don't have any jobs where we'll be drilling masonry or concrete immediately on the horizon, so we tested the Ryobi One+ Hammer Drill by drilling through a spare brick with the hammer function engaged and then again with it disengaged. The drill performed exactly as we expected – easily plowing through the brick with the hammer function engaged, and struggling terribly with the hammer function disengaged. The drill bit we were using was also older (not brand new), and we were impressed with how much the hammer function helped out.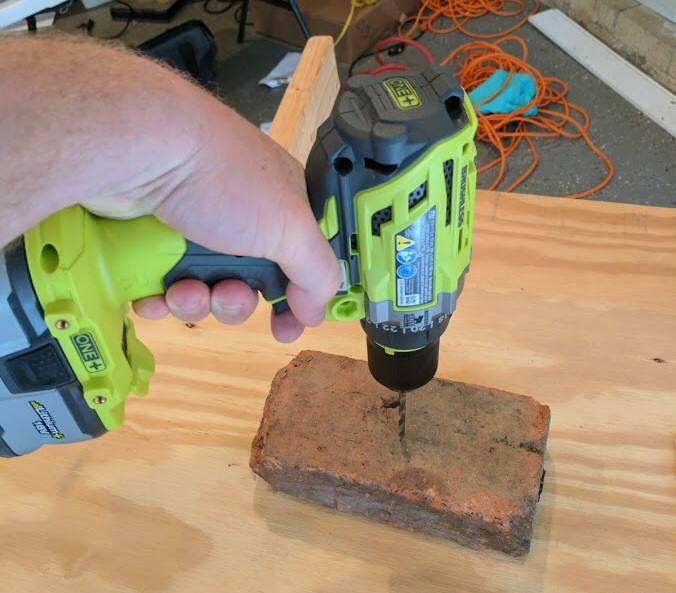 Who This Tool is Right For & Price
We are huge fans of Ryobi's One+ line up for do-it-yourselfers for a few reasons:
Huge line-up of 70 tools that use the One+ battery line – if you need, Ryobi likely builds it.
Good balance of features, quality, and price point.
3 year warranty on all power tools (just have to register them, and it covers the batteries, too, which is important)
The Ryobi P1813 Brushless Hammer Drill Kit is right for the DIYer or light contractor who is looking for a drill/driver that's going to provide great capability for a value price. We especially think if you're a DIYer considering your first drill/driver, you should skip buying the regular drill/driver and jump right into the brushless hammer drill.
Price is $129 – which is an outstanding value for a tool genre that used to only be available at prices > $150.